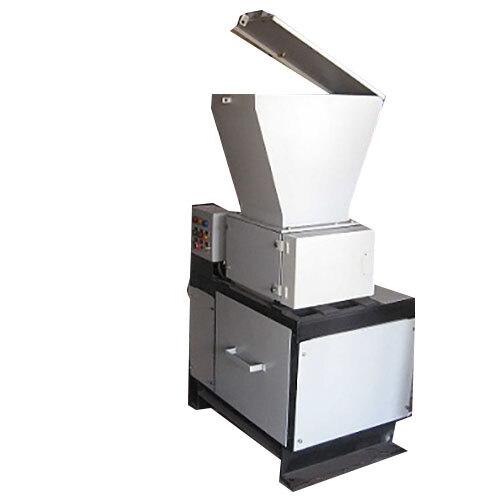 Price And Quantity
207000 INR/Unit

75000.00 - 207000.00 INR/Unit

1 Unit
Product Specifications
2 Shaft Shredder

biomedical waste shredding
Product Description
Biomedical waste shredders are required at hospitals, clinics, diagnostic centers and municipal biomedical waste facilitites. Amey Engineers biomedical waste shredders are developed inline with CPCB guidelines as follows
Revised Guidelines for Common Bio-medical Waste Treatment Facilities, December 21, 2016 Page no 12,13
f) Shredder: Shredding is a process by which waste are de-shaped or cut into smaller pieces so as to make the wastes unrecognizable. It helps in prevention of reuse of bio-medical waste and also acts as identifier that the wastes have been disinfected and are safe to dispose off. A shredder to be used for shredding bio-medical waste shall confirm to the following minimum requirements:
(i) The shredder for bio-medical waste shall be of robust design with minimum maintenance requirement
(ii) The shredder should be properly designed and covered to avoid spillage and dust generation. It should be designed such that it has minimum manual handling
(iii) The hopper and cutting chamber of the shredder should be so designed to accommodate the waste bag full of bio-medical waste
(iv) The shredder blade should be highly resistant and should be able to shred waste sharps, syringes, scalpels, blades, plastics, catheters, intravenous sets/ bottles, blood bags, gloves, bandages etc. It should be able to handle/ shred wet waste, especially after microwave/ autoclave/hydroclave
(v) The shredder blade shall be of non-corrosive and hardened steel
(vi) The shredder should be so designed and mounted so as not to generate dust, high noise & vibration
(vii) If hopper lid or door of collection box is opened, the shredder should stop automatically for safety of operator
(viii) ]In case of shock-loading (non-shreddable material in the hopper), there should be a mechanism to automatically stop the shredder to avoid any emergency/accident
(ix) In case of overload or jamming, the shredder should have mechanism of reverse motion of shaft to avoid any emergency/accident
(x) The motor shall be connected to the shredder shaft through a gear mechanism, to ensure low rpm and safety
(xi) The unit shall be suitably designed for operator safety, mechanical as well as electrical
(xii) The shredder should have low rotational speed (maximum 50 rpm). This will ensure better gripping and cutting of the bio-medical waste;
(xiii) The discharge height (from discharge point to ground level) shall be sufficient (minimum 3 feet) to accommodate the containers for collection of shredded material. This would avoid spillage of shredded material
(xiv) The minimum capacity of the motor attached with the shredder shall be 3 KW for 50 Kg/hr, 5 KW for 100 kg/hr & 7.5 KW for 200 Kg/hr and shall be three phase induction motor. This will ensure efficient cutting of the bio-medical wastes as prescribed in the Bio-medical Waste Management Rules; and
(xv) The shredder also should be fitted with separate energy meter for recording total energy consumed for operation of this equipment.
Enter Buying Requirement Details
Other Products in 'Industrial Shredders' category